OfCourseBooks – Create Online Course
OfCourseBooks – Create Online Course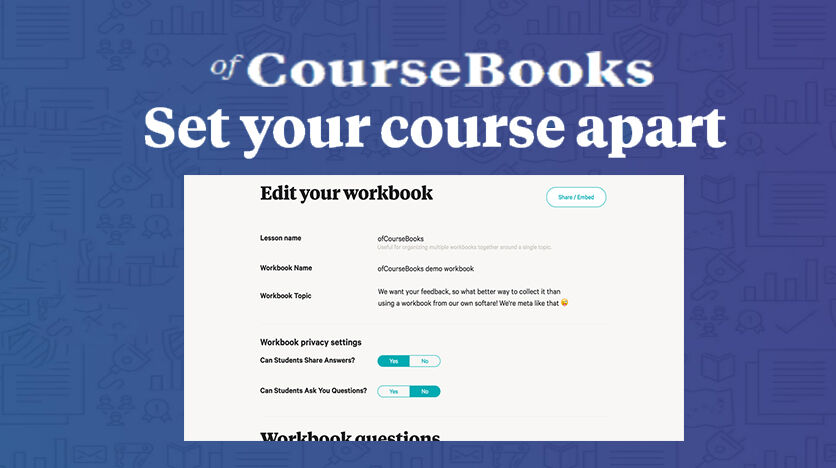 The internet has completely changed the way we learn. Online courses make it possible for anyone to learn anything from anywhere. 
ofCourseBooks does one thing: we make note-taking better.
For course makers, that means you get to add value to your courses and track what students are learning. For students, that means they have an easy way to write down what they've learned and see what others in your class are learning.
Set your course apart
You've created an amazing and engaging course, now get your students excited to take notes, save them and share them with other students.
ofCoursebooks lets you create branded and embeddable workbooks that help your students learn faster and become more engaged with your material.
Create branded workbook
Create branded workbooks with questions you want your students to answer. Now supporting Google Fonts
Any platform will do
ofCourseBooks works with any course that lets you create a link or embed a single line of HTML (basically: all course platforms)
Share + embed

Embed the workbooks right into your course or share the workbook URLs (from your course or via email)
Students save + share
Your students can create, save and share their answers with other students and even export the workbooks to PDFs.
Track progress
Track student progress via ofCourseBook's beautiful admin dashboard and watch them learn and share notes with each other.
No messing around
Axe hard-to-customize PDF forms, ugly Google Docs and crazy-complicated integrations. Just create your course workbooks and share!
Locked in pricing
Once you're in, you're locked—your monthly price will never increase even though you'll get access to new features as they're available
Private workbooks
Is your material sensitive or personal? You can turn off student sharing at a teacher level.
Student <> teacher discussions
If a student has a question, they can "raise their hand" and start a discussion with you