How To Write A Good Marketing Email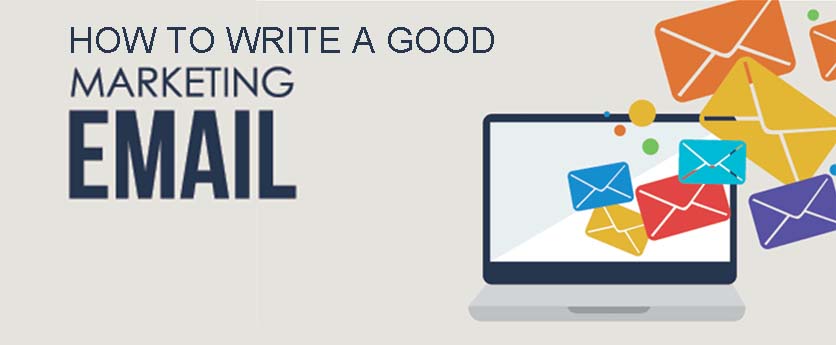 How to Write a Good Marketing Email
Marketing Email is truly a talent that if taken for granted can dissuade potential clients and customers from what it is you are trying to sell or offer them. Emails are supposed to be a tool or resource that strengthens your brand. There is a magical formula that you can follow to ensure that your emails are opened, reviewed and if so desired, acted upon.
Here are ten ways to write an effective email.
#1 Establish an Objective
As you are composing your email for distribution, make sure that you have a clear objective in mind. What is it you are trying to achieve with this email? Is there a specific call-to-action for your recipients?
#2 Subject Lines Should Be Attractive
Let's face it, these days, inboxes are inundated with emails and you only have a few seconds to grab the attention of the reader. Make sure your subject line is appealing to the targeted reader and that it entices them to want to take the next step in actually opening the email.
Remember to keep it short and sweet. Ideally, you are looking for a subject line that is between five and seven words in length or forty characters and follows the rules of email etiquette. Avoid using all capital letters or phrases like "Get You Copy for Free" as this can make your message look spammy and who wants that?
Using a question in your subject line is another way to grab the attention of your readers as they will more than likely want to know the answer to the question you proposed.
Another attention grabber for the subject line of an Marketing email is one that gives the sense of being timely or having a deadline. By using a deadline, you can create a sense of urgency for the reader to open the email in using this technique.
#3 Include Persuasive Images and Really Good Content
Include persuasive images to hold your reader's attention with content that seals the deal! Remember to use high-quality content that draws the reader in wanting more. Good content will impart information, possibly solve problems and once again give testimony to a single or multiple objectives for the recipient of the email making it worth their while to read some component or ideally, the entire email.
Next, mix up the flavor of your emails, being careful to not only bombard your recipients with products for sale but real information that they can use.
#4 Keep it Short and Sweet
Speaking of good content, remember to keep the email short and sweet and get to the point. Most reader's attention spans are very limited and thus, you do not want to bombard them with too much information within a given email message. Instead, provide small bursts of information that give them a sense of value.Avoid the fluff but make sure you have one "A-HA" moment in the content. Value! Value! Value!
In addition, if you have decided to include call-to-actions (CTA) in your emails, try to limit the number of these CTAs to one so that it is clear what you are looking for the reader to do. Examples of CTAs to engage the recipient might include any of the following:
Click on this link
Subscribe here
Register for this webinar
Buy your copy now
Be careful to ensure that your email does not appear to be marketing-heavy where the recipient constantly feels as though they are being marketed to but that you are contacting them on a personal level as well.
#5 Make it Personal
Speaking of making your emails personal, remember to make your email give the feel of being a personal contact to that recipient and not necessarily the feel of an email that may have gone out to 50,000 subscribers. This can be done by including the recipients first name in the opening line of the email. Ultimately, you want the recipient to feel as though they are far more involved in your message on a personal level than that of a "group" email. Next, use a friendly tone and be yourself. You want your emails to feel as though they came from a real person and not someone who is paid to write emails.
#6 Monitor the Effectiveness of Your Marketing Email
Closely monitor which emails give you the desired results and outcomes of the email and which emails do not work in your favor so that you can replicate success time and again.
#7 Know Your Targeted Audience
Know who your audience is and ideally what it is they truly want to see from you in an email. If you are creating calls-to-actions in which you are seeking engagement, you will need to spend the time getting to know what makes them tick.
#8 Beware of Your Marketing Email Frequency
Be careful to not bombard your reader with too many emails. Being the recipient of too many emails can prove to be exasperating, overwhelming and a complete turnoff and soon, your emails just might be ignored. Make sure that you target your emails to go out earlier in the morning, Monday through Friday so that it is seen. Studies have shown that emails sent on a Monday or Tuesday morning fair better than those sent out late in the afternoon.
#9 Keep It Mobile Friendly
Make sure that the email is mobile-friendly! Most of your audience will access their emails from a mobile device and the first line of that email will be visible to them. Keeping this in mind, you will need this opening line to be a good one to draw them in for more. An email that is not mobile-friendly can be a turn-off and quickly deleted. Therefore, take the time that you need to ensure your email is both user and mobile-friendly.
Send your email to yourself and critique it! Based on what you see; would you be compelled to read more? Test any and all links that you embed in your emails and make sure that that great content you included is easy to scan and not overpowering.
There you have it, ten ways to write a good marketing email.+