Convertri Reviews : Everything Under The Blue Sky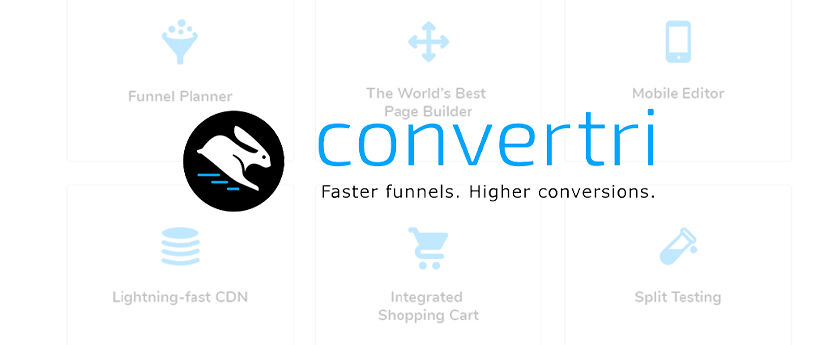 Convertri Reviews 2020 – Lightning Fast And Free Form Landing Page Builder
In this Convertri reviews we look at how online marketers use myriad methods to review and attract an audience and convert them into customers.  A sales funnel is one such method to drive viewers to your product or service and educate them about its true value. Although there is quality competition in this area, we're going to talk about a new kid on the block.
What is Convertri
Convertri is considered the world's fastest funnel builder. It's a sales funnel builder software platform. It's primarily used to build sales funnel and landing pages. The distinct feature that sets it apart from the crowd is its blazingly fast loading pages and funnels. Convertri lives by the claim justly by providing its users an amazing experience.
Convertri offers an easy drag-and-drop funnel builder platform and connects to a wide breadth of external services using one-click built-in API integrations. It offers myriad options to design pages using dynamic elements with no technical skill required. Apart from the obvious, Convertri has a ton of extra goodies to offer. Although a newbie in the market, Convertri gives a tough time to its rivals.
Andrew Fletcher is the brain behind Convertri. He is a software developer and an online marketer. Convertri has been impressively developed with a lot of tricks up its sleeves.
What are Sales funnels
Sales funnel is an automated process to welcome your audience, hook them in, and take them through a carefully calibrated sales process. The end goal is to convert your hesitant visitors into happy buyers. When configured properly, a sales funnel can automate and review your marketing goals and skyrocket your income. A funnel is wider at the top where visitors arrive from various sources. Few are convinced to stay and become your loyal following. There are Funnel features to re-market visitors who drop out of the funnel mid-way.
Why Convertri?
Let's deep dive and review the various features Convertri offers and understand if it's really for you. Convertri Reviews
Funnel Planner
The funnel planner helps to link various pages and build a user flow visually. If you're looking at a funnel, it'll display all the pages with the help of arrows leading one page to the next. For example, the main page leading to the Opt-in page, which in turn leads to the Thank you page and so on. This gives a clear picture that once an action is triggered on one page, it automatically triggers the next page.
Dashboard
The Convertri dashboard puts up everything on one screen for better understanding. You have access to Analytics and Scripts on the left side of the dashboard.
On the Page dashboard, you have the elements menu on the left side to drag and drop. For example, you've Collections from where you pick templates for headers, footers, forms, Hero Selections, and Body test. Other elements are text, image, panel, media, countdown timers, HTML elements, and a few more. At the top, you'll find a few more menu items such as Actions, Layers, forms, products, fonts, and display. You've to design the page for both desktop and mobile. 
The funnel builder helps you plan and execute every stage smoothly. Funnel share feature allows you to send entire funnel to your associates and also import successfully running funnels from your business peers. It provides you a perfect planning suite to research, design, and create a work-horse to attract traffic and convert effectively.
Superfast pages
Blazingly fast loading pages is the backbone of Convertri and its biggest USP. Convertri's Accelerated Page Technology takes user experience to the next level. Convertri loads pages in less than 3 seconds. It has built a lightning-fast content delivery network using an array of super-fast servers. The HTML/CSS/JavaScript is automatically compressed for effective space management and adds to page loading speed. Images are also compressed and stored in dedicated hosting servers, which are auto-scaled to full glory on your viewer's screen.
Speed is a deciding factor for conversion in any online endeavor. You're severely penalized on search engine ranking if your web pages take more than 3 seconds to load. Convertri sticks to its claim, "Faster funnels, higher conversions", and empowers you to grow your revenue higher. Their innovative 'Presto Player' loads and runs your promotional videos on the platform with absolutely no impact on page load speed.
Convertri is smartly optimized to handle huge traffic inflow without blowout or server downtime. The audience comes with darting patience and a short attention span today. They get easily turned away if your website takes longer to load up.
Easy-to-use Drag and drop builder
Convertri provides a 'Free-Form Editor" with no rows, sections, or columns restrictions. This gives you unparalleled control. If you have a design in mind, just drag and drop the elements where you want them to be. Alignment is taken care of by easy snap lines. The editor conveniently allows you to move around and update text blocks, media files, buttons, and a ton of other page design elements. The free-form editor allows you to build custom and flexible designs. And, if you think the design needs an update, Convertri gives you an UNDO button to fix the canvas.
With absolutely no technical and coding skills, the Convertri platform enables you to create engaging and conversion-optimized pages. Apart from this, conversion stats are available on each page to monitor individual page performance, which is a powerful tool to identify the weak areas and improve them for maximum results.
Several elements including countdown timers and multiple skins allow you to create dynamic pages, which urges visitors to respond quickly.
Advanced users are allowed to implement custom CSS and JavaScript into the editor. Adding your own HTML also comes handy at times.
Designers don't design for one standard viewing size anymore. They create blueprints with the smallest screens on their mind. Responsive mobile-first page design is the need of the day. A super-innovative feature, mobile-specific pages allow Convertri to build custom pages to be displayed only on your mobile device. It doesn't impact the page-design being displayed on desktop devices.
This neat feature allows you to build stunning and unique designs for your mobile devices only. More and more people are on mobile most of the time so it's extremely important to nail that area.
Huge list of elegant templates
Convertri offers complete customizable funnel templates as well as stand-alone pages. Whatever your niche may be, Convertri has a template that caters to almost any industry. Though all the pre-built super-fast templates are conversion-optimized, you've got the choice to customize them to your heart's content. You're not limited to building linear funnels and can create several upsell paths.
Currently, Convertri lets you play with 50 funnels and 500 pages with the initial monthly plan.
Third-party Integrations
Convertri offers an array of API and HTML integrations to external interfaces. With so many powerful tools already available in the market to carry out various online marketing tasks, it's foolish to reinvent the wheel again. A smarter way is to develop a seamless interface to integrate with all the differently-able third-party tools. To name a few, Convertri reviews and provides interfaces to flawlessly integrate a shopping cart, email marketing tools, payment processor, autoresponders and the like.
Layers
Convertri layers are like overlay screens, which can be hidden or displayed based on your configuration. Layers allow you to create multiple screens on your website. You're free to create a layer once and do whenever you want to, and whatever you wish to do with it. Create incredibly subtle effects by timing a layer to show up or hide after a certain amount of time has passed after page load. You may also fire the layer once the user has clicked a particular element or has scrolled down to a particular area on the page.
You can even configure elements to show or hide upon page load. Because sometimes you want to set actions or just want to keep something hidden from viewers on a page.
Smart Pop-ups and sticky header bars utilize this feature to hook your visitors and increase your chances of higher conversion. Convertri layers offer a new dimension to your online marketing by neatly timing your offers and messages to ensure a stronger impact.
Convertri actions and triggers
Actions are scripts that allow layers and events to unfold as per configuration. They can be set at element, layer, or page level. The 'Actions' tab on the menu makes an element or layer, visible or invisible. You can set page triggers (for the entire page) or just element triggers (for chosen elements). Triggers can be set based on time as well. In that case, elements show up only after a certain time has elapsed post page load.
All this has to be configured in the 'Event type'. You specify what kind of event must happen to trigger the action selected.
Dynamic text replacement
Static text on a web page may not be relevant to visitors from different demographics. And, designing distinct pages for different location is not feasible. Dynamic text replacement is a novel idea to change the text on a given page based on conditions that you set. The text on the page varies based on what you add to the URL's query strings or based on keywords in your ads. For example, to change the text based on location, you just have to pass the location tag along with relevant parameters.
The smart feature allows PPC marketers never to lose a visitor again due to generic copies. Visitors who come through ads are pointed to a landing page that coincides with the search query. Providing custom pages to search phrases ensures maximum conversion and higher revenue.
Sub Accounts
Sub-account is an advanced feature that allows you to create pages as services. If you run multiple businesses, sub-account delivers landing pages, websites, or funnel building services to your associates and clients.
The first step is to create pages within sub-accounts. The next step is to provide your clients access to edit or publish those pages. You add your clients to their projects. And, your clients have limited access within the sub-account to view and edit the pages. Currently, sub-accounts are only available with the Convertri Agency plan.
Page importer
If you're planning to migrate all your existing landing pages and funnels from other platforms, the page importer feature makes your life super-easy. Import any page or funnel into the Convertri editor and replicate the same without having to redesign anything from scratch. Convertri makes sure, your prior efforts don't go waste and provides hassle-free migration.
The option is available on Sites on the left-hand menu of the Dashboard.
The feature also captures and optimizes any existing images on your page and stores it on a separate folder. Imported pages are also optimized in line with Convertri's Accelerated Page technology to make them load faster as per Convertri reviews standards. After you click 'Import page', you can either import using a 'shared code' or an 'external URL'. The shared code can be generated from any page on the dashboard, which can be then shared with associates.
The page importer feature works best with static text and images. Videos, interactive elements, and other widgets may not work properly and require custom updates. Also, be aware that the feature is in beta mode so things will not behave as needed at times. Few of the known bugs are
Fonts will get updated to the closest match available.
Whitespaces, bullets, and text line heights are not imported.
You may also face unwanted issues if you're using plugins on your browser. Disable all plugins to avoid any significant issue.
Built-in video player
Convertri Reviews provides a built-in video player to host your videos if you don't want to use Youtube or Wistia on your site. The player is smartly optimized for faster load and smoother playback.
You use the video player by clicking Videos on the left-hand menu of the Dashboard. After uploading a video, it can be used as a video source in the page editor.
An Autoplay option lets you set the video to play on page load itself. Advanced options are available to choose whether you want the autoplay option activated on desktop, mobile, or both. You can even select whether the video freezes on its final frame or loops back. Another useful feature is the toggle sticky option that makes the video stick to the frame as you scroll down the page. And once again, advanced options are there to enable this option only for desktop, mobile, or both.
Only the Pro and Agency accounts have access to this video upload feature that allows you to add videos to your pages. Both the accounts are allowed to change the video player skin to better match their page design.
Autowebinars
Convertri reviews and gives you the opportunity to set up 'just-in-time' webinars. So, whenever your visitors arrive on the page, the timer always displays a few minutes left to sign-in. It creates a sense of urgency and increases the probability for your prospects to sign-up. To access auto webinars, go to Campaigns and click auto webinars on the left side of the Dashboard. Currently, only one template is available to work with. You can adjust the design using the drag-and-drop feature.
Unlike usual Convertri editor, Autowebinar editor has couple differences:
Some elements are required on the pages. While they can be updated, they can't be deleted. For example, the countdown timer can't be removed from the registration page, and the video element can't be deleted from the webinar page.
In Autowebinars, you can set countdown timer across the entire funnel. If you set the timer to restart every 2 minutes, and your visitor arrives now, your timer will countdown to two minutes from now.
Autowebinars lets you set up forms like anywhere else in Convertri. Once your visitor's signup, they are added to your autoresponder list to send follow-up sequences in the future. On the Autowebinar replay page, you can set a hard expiry date.
Autowebinar is also on beta mode, so users get to influence the actual development or any new updates.
Shopping cart
All successful eCommerce business run on a reliable shopping cart service. Convertri's integrated shopping cart gives a robust system to make sales and collect payment. It allows you to sell unlimited products using 1-click upsells, subscriptions, setting up regular payments, trials, and bump offers. Works like a charm with Stripe and keeps the money rolling in.
Support
Convertri is relatively newer. So, its dedicated support team works proactively to seek feedback and provide solutions. The team is highly motivated to churn out improvements based on user experience each month. The support networks and articles are second to none.
Thousands of members hang-out and come together on Convertri's active Facebook group to share solutions and suggestions. The community is super-responsive and is always happy to help. User-suggested updates are closely monitored and incorporated as and when feasible. Convertri boasts of one of the highest-ranked support systems in the industry.
Split testing
Split testing is a powerful feature to test designs on your page and gauge their performance. The process allows you to duplicate a page and update variants to create and test different versions. It then runs analytics to compare the conversion potential between the two sets of design and to understand what people like and want more.
The comparison gives a better picture as to which key elements do well and where exactly to place them on the page. For more accurate data Convertri reviews and allows integration with the tracking system SnowPlow. It helps you quickly spot the trend and ride the wave. Split testing quickly aids you to analyze different versions of paid ads.
Custom domain
Convertri allows you unlimited sites using Convertri subdomains i.e. yoursite.convertri.com. Although it's ok to start like that, eventually you'd want to own a custom domain down the line. Setting up your own custom domain on Convertri with a free Secure Socket Layer (SSL) is an effortless task. Convertri Reviews hosts all domains on their super-fast state-of-the-art servers and adds SSL certification automatically with no extra cost.
WordPress plugin
If you've your main website on WordPress, and you wish to pull your Convertri pages through your WordPress domain, Convertri's WordPress plugin does the job for you. It's located on the left side of the Dashboard. The process starts by downloading the 'convertri-connector.zip' file and uploading the same as a plugin on your WordPress Dashboard. Once the plugin is installed and activated on your WordPress site, your corresponding Convertri pages will be displayed.
Forms
Forms are easy to build and fully customizable. Form configuration and form elements are two parts to every form.
API, HTML, and Email are three ways to configure your forms.
Form elements are the inputs your visitors interact with on the page. Text input, credit card input, and submit buttons, are some of the form elements.
Pricing
Convertri has 2-pricing plans.
Pros and Cons
Convertri offers a lot of options to host a cost-effective funnel or landing page. It comes packed with a lot of features such as page importer, dynamic text replacement, etc. Below are some points to summarize the pluses and minuses of the product.
Pros
Easy to use the drag-and-drop feature for beginners
Phenomenally Super-fast loading pages
Hassle-free Import all your pre-existing pages
Reasonably priced for beginners
Countdown timers to add urgency to your sales pages
0% downtime
Quality and professional round-the-clock support
Free trial period available with a money-back guarantee
Free custom domains with SSL
The full-throttled development team is always excited to add something new
Cons
Lacks built-in affiliate and member area
Built-in forms are not feature-packed
Event builder is a bit complicated with not so easy-to-follow tutorials
Not the best page builder out there
Lacks features for large enterprises
Convertri has all the features that you need to build a conversion-optimized funnel or landing page. But competition is huge out there. And they all claim to display relevant features if not exactly the same. Let's see how Convertri stands up to them.
Convertri vs ClickFunnels
ClickFunnels has a reputation for being an all-in-all funnel. Though it is older and boasts of a bigger market share, Convertri has made its rightful place among the competition.
Pros and Cons
Clickfunnels has a bigger list of external API integrations as it's not just a sales funnel.
Convertri provides mobile-ready pop-ups and sticky headers to build micro-commitments.
Convertri is hands-down faster than Clickfunnels when it comes to page load speed.
The affiliate market program of ClickFunnels is more lucrative due to its popularity and higher commission.
ClickFunnels is a bit pricy if you're just starting out. It offers 2 pricing options. In which, the basic plan is itself close to $100 a month. Convertri is a more reasonable option with 3 pricing plans. It has a lower basic plan.
The ClickFunnels Actionetics allows you to send message sequence directly to your customers. Create simple follow-up funnels to get back to your visitors at any time. Convertri lacks this feature.
Backpack allows ClickFunnels users to add an affiliate program using pre-designed templates to any sales funnel. Convertri doesn't have this feature.
ClickFunnels has a block-based page builder interface, while Converti offers a full Free-form editor. Both have a drag-and-drop editor interface.
ClickFunnels has a larger knowledge base online due to its bigger following. Though Clickfunnels has an established support system, Convertri is not behind when it comes to providing quality support to its users.
Convertri offers a dynamic-text-replacement feature for PPC marketers. Clickfunnels lacks this feature.
Convertri vs Leadpages
Leadpages offer a simple and code-free way to design and create high-converting landing pages. Convertri is not just a landing page builder.
Pros and Cons
Convertri's Accelerated Page Technology wins the speed test over Leadpages with superior loading times.
Leadpages is a Block-form editor while Convertri is free form editor. Convertri Reviews editor is more popular and user friendly.
Convertri's basic plan is cheaper than that of Leadpages.
Convertri's support is excellent. Both the dedicated Facebook group and the ticketing system is faster than Leadpages support.
Leadpages has a long list when it comes to integrations.
Leadpages doesn't provide separate mobile-specific page editor.
Convertri vs Thrive Themes
Thrive Themes is a popular name in the WordPress theme designer market. It's an excellent theme and plugin provider in the world of WordPress.
And as we already know, Convertri Reviews is a free-form funnel builder with WordPress integration as one of its strong areas.
Convertri vs Builderall
Builderall is a digital marketing platform. It's a one-stop cloud-based solution where you don't have to install anything on your local machine. Builderall provides all the marketing tools like website builder, landing pages, sales funnels, email auto-responders, analytics, and much more under one roof.
Pros and Cons
The Convertri free-form drag and drop editor is easier and faster.
Builderall has a dedicated App creator, where you build, modify, and publish mobile apps.
The floating video tool allows Builderall users to upload videos created against green-screen to display video cut-outs.
Builderall Car Program is a lucrative offer for affiliates. Wherein, you get $500 extra each month to pay for your car EMI.
Script Generator is an efficient Builderall tool to create effective copies of webpages, webinars, sales letters, and the like.
Initial pricing plans for both platforms are comparable.
Convertri vs Unbounce
Unbounce is one of the best and oldest landing page builder. As per users, it's extremely feature-loaded and hard to beat. Convertri reviews and faces stiff competition from Unbounce.
Pros and Cons
Unbounce is not a funnel builder. It's a complete landing page builder.
Unbounce's accurate PPDD (pixel perfect Drag and Drop) allows you to place elements anywhere on the page using its fluid page builder. Convertri's page editor is decent enough when compared.
"Sections" are the fundamental building blocks inside Unbounce. While in Convertri you work with "Panels".
Convertri Reviews pages allow you to add Facebook comments. Unbounce lacks this feature.
Interactive quizzes can be held on Convertri pages using the 'Quizitri Quiz' tool.
Unbounce lacks the Countdown timer tool. Convertri has this useful feature.
The user interface of Unbounce leads the game for its ease and intuitiveness.
Unbounce provides you direct integration with Unsplash public library to add high-resolution images. Convertri offers no such integrations currently.
Unbounce forms are neatly configured and quick to create. Options are limited when it comes to form-building with Convertri.
Convertri has fewer natively built-in integrations.
Wrap up
There are many Convertri reviews online but ultimately what you choose will always depend on your requirements, and the time and energy you're willing to put in the making of your online business.
Convertri is an absolute game-changer in the world of funnels. Create high-quality fast-loading pages with no hassles integrating with third-party hosting services or hacking WordPress. It allows you to build powerful and complex funnels in a matter of a few minutes owing to its complete design flexibility. Video tutorials are available for each step. All the tools and features are geared to provide you unmatched creative freedom. On top of that, an eager community is out there to help you. So, there is no way to get stuck with this one.
Take advantage of the free trial and see if Convertri is the secret weapon to your thriving online endeavor.